Few people haven't noticed the surge in popularity of womens boots in recent years.  All you need to do is take a stroll through any city when it is cool outside and you will see scores of these fashionable boots.  While lots of the mainstream boots are unfortunately made out of things like leather and fur, the good news is that there are lots of great vegan shoes that don't use these animal products.  The vegan boots women love are definitely available, and so are other styles for everyone else, like men and kids.  Here is a rundown of the most popular styles of vegan boots.
Vegan Womens Boots
With the popularity of vegan clothes and shoes these days, you can usually find any style of boot that you want.  One of the most popular kinds is the one made famous by Ugg.  Vegan sheepskin boots are the perfect alternative to those that use real skin, and they even have faux fur in them.  Another popular style is the vegan laceup boot, often reaching as high as the knee.  See all of the Vegan Womens Boots Here
.
Vegan Hiking Boots
As anyone who regularly hits the trail knows, a good pair of hiking boots is the most important thing of all.  While the selection of this type of boot is usually dominated by leather and suede, there are vegan hiking boots now as well.  Technology has evolved a lot in recent years, allowing for lots of man-made materials that breathe and are water resistant, making them perfect for a vegan hiking boot. See all of the Vegan Hiking Boots Here
Vegan Cowboy Boots
While virtually all of the cowboy boots in times past were made out of leather, things have changed.  Faux leather is readily available and a great alternative, which means that vegan cowboy boots that look the same as their counterparts can be had. See all of the Vegan Cowboy Boots Here
Vegan Snow Boots
As with the hiking boots, all of the man-made weather resistant materials that have been invented in recent years means that boots that stand up in the winter can easily be found.  All the readily available faux-fur means that they will keep you feet toasty warm in addition to looking great. See all of the Vegan Winter Snow Boots Here
Vegan Work Boots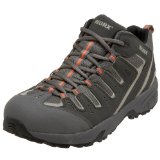 If there is one segment that still lacks a bit of choice, it is the vegan work boot.  Work boots have long been dominated by leather, and we are just beginning to see a few vegan alternatives popping up.  Many workers need to wear steel toed boots to protect their feet.  These are really tough to find, but there are a few around. The main problem seems to stem from the fact that most materials can't seem to pass the stringent testing requirements that work boots require. Here is a Men's Safety Toe Shoe
and a Women's Safety Toe Shoe
Vegan Combat Boots
There are two types of combat boots:  Those made for fashion, and those designed for real military combat use.   The fashion kind for women can be found, but the military style ones are pretty tough to find.  I haven't seen any yet that don't have leather on them, but will add them here if I come across any.  One hint that I have learned is that it helps to search for vegetarian shoes as well as vegan, since they are the same thing, but may be labeled as one or the other.